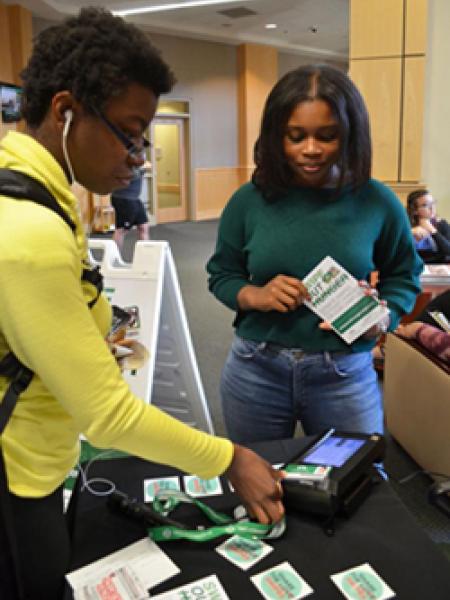 NATIONAL SWIPE OUT HUNGER PROGRAM
Swipe Out Hunger is a nation-wide program that partners with colleges to help put an end to student hunger and assist those who struggle with food insecurity. Leadership & Community Engagement has partnered with Chartwells Dining Services, Auxiliary Services, Student Assistance and Support Services, and the Sustainability Office to bring this program to UNC Charlotte. 
DONATE MEAL SWIPES
Students can donate up to two swipes total (one swipe per transaction) from their meal plan per semester. Swipes can be donated by visiting the mobile ordering app as well as in person by the front desk located in SOVI. 
Eligibility for Swipe Out Hunger Program at UNC Charlotte
The Swipe Out Hunger Program aims to provide students who are food insecure, and/or who are experiencing an emergency situation, access to healthy and well-balanced meals in our campus dining halls. To be eligible, students must be currently enrolled at UNC Charlotte.
If you meet this initial requirement and would like to complete a needs-based assessment to determine your further eligibility for the program, please schedule an appointment with Student Assistance and Support Services by calling 704-687-0289.